Start a GREAT career with one of the top HVAC Companies in Central Indiana.
We have the right products and training to help you succeed.
Start a rewarding career with one of the top HVAC companies in the Indianapolis area! We follow clear processes to ensure that every customer receives the same great experience regardless of the time of day, site conditions, or any other environmental variables.
To apply for any of our open positions, please fill out the application below or call us at (317) 759-2529.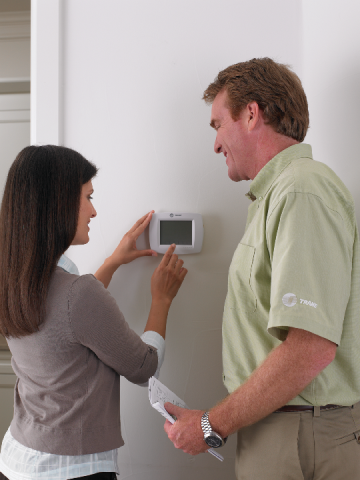 Service Technician (Entry-Level)
General
Physical – Must be capable of:

Climbing stairs, ladders and scaffolds - working at heights above 30 feet
Standing or walking for long periods of time
Sitting, bending, reaching, stopping, kneeling, crouching, and crawling; working in confined spaces –crawlspaces/basements/attics
Lifting/shifting at least 75 pounds

.Good mechanical skills
Positive attitude and capable of being team player
Must be willing and capable of learning on the job
Educational
Minimum of high school diploma or GED) PLUS at least 1 year of accredited study (and continuing enrollment) toward a 2 or 4 year degree from an accredited college majoring in HVAC
Task specific background /aptitude requirements

Recommendation from HVAC Department head and/or HVAC Instructor
Must have proven acceptable scores on mechanical comprehension tests
Strong communications skills – written and verbal
Well Organized

On-the-job learning

Must be willing to take instruction from senior Specialists
Must willing and capable of learning how to interact with customers and other staff
Need to be ambitious and take initiative to learn

Take on other duties as assigned – including workplace maintenance and cleaning
Personal 
Valid social security number, driver's license and clean driving record
Must be well-groomed and make a neat appearance
Must be able to pass drug test(s) and background investigation as required by company
Description of work and environment
Hands on work under the supervision of an Senior or Master Service Specialist
Must have knowledge and mechanical capabilities to complete basic service work based on instructions from Senior/Master Service Specialist (and retain experience and learning)
Work can be residential or even commercial
Work is generally done during regular business hours, but flexibility in time for work is necessary
Work/Study opportunities exist for part-time or full-time work for student working on degree in HVAC
If not degreed, must demonstrate continued progress toward degree completion, verified by school and professors
Safety
Required

Work safely and follow safety rules
Follow all verbal instructions and company policies on safety
Take all reasonable and prudent actions to maintain a safe working environment and prevent injury or physical damage to company or customer property and/or vehicles
Senior Service Specialist
General
Physical – Must be capable of:

Climbing stairs, ladders and scaffolds - working at heights above 30 feet
Standing or walking for long periods of time
Sitting, bending, reaching, stopping, kneeling, crouching, and crawling; working in confined spaces –crawlspaces/basements/attics
Lifting/shifting at least 75 pounds

Excellent mechanical/electrical/electronic skills
Positive attitude and capable of being team player
Educational/Experience
Preferred: completion a 2 or 4 year degree from an accredited college majoring in HVAC; Minimum of at least 1 year of accredited study (and continuing enrollment) toward degree
Required: 3 to 5 years of HVAC work
Strong communications skills – written and verbal
Preferred: NATE Certification
Required: EPA Universal Certification
Personal 
Valid social security number, driver's license and clean driving record
Must be well-groomed and make a neat appearance
Must be able to pass drug test(s) and background investigation as required by company
Preferred: Desire to gain additional skills and progress in company
Description of work and environment
Complete all required paperwork in a timely and accurate manner
Work with, instruct/train and assess the skills of any Installation Technicians assigned to work with you
Attend required meetings, company or vendor training as required
Qualify for any necessary licenses or certifications which may be required by the company
Exhibit professional conduct at all times, whether at the job site or driving company vehicles
Participate in an on-call rotation schedule that includes nights, weekends and holidays
Understand company pricing and generate appropriate customer invoice at job site
Diagnosis and Repair
Must have the expertise to diagnose service issue
Check out system, determine and recommend repairs needed
Review costs of repair and get customer payment and sign-off on paperwork
If parts are NOT on the truck, check with office on timing to receive parts and tentatively schedule follow-up appointment to complete repair
If system is not repairable or cost is very high, go over options with customer; price out/have office price out potential replacement system – work with customer to schedule installation estimate call – if customer does NOT want to consider a new system, determine if they want repair completed, if they DO – go ahead and complete repair and get payment' or if parts are not on truck, follow procedure noted in 1: if they DON'T want the repair, get service call charge and okay on paperwork
Be sure to go over benefits of Complete Comfort Comfort Club and explain costs versus benefits
Business Travel/Vehicle and Supplies
Travel to job sites in service area, and work with dispatch to ensure schedule is maintained and, if delayed, properly communicate delays to customer in advance of appointment time
Maintain good working order of company vehicle including refueling as necessary, reporting any mechanical issues, and filling out and submitting monthly vehicle inspection form. Insure that vehicle is clean (should be washed on a regular basis)
Maintain proper stock, parts, tools, and safety equipment in the vehicle
Maintain and submit monthly mileage log forms
Safety
Work safely and follow safety rules
Provide clear verbal instructions on company policies for safety
Take all reasonable and prudent actions to maintain a safe working environment and prevent injury or physical damage to company or customer property and/or vehicles
Master Service Specialist
General
Physical – Must be capable of:

Climbing stairs, ladders and scaffolds - working at heights above 30 feet
Standing or walking for long periods of time
Sitting, bending, reaching, stopping, kneeling, crouching, and crawling; working in confined spaces –crawlspaces/basements/attics
Lifting/shifting at least 75 pounds

Excellent mechanical/electrical/electronic skills
Positive attitude and capable of being team player
Educational/Experience
Preferred: completion a 2 or 4 year degree from an accredited college majoring in HVAC; Minimum of at least 1 year of accredited study (and continuing enrollment) toward degree
Required: 7+ years of HVAC work
Strong communications skills – written and verbal
Preferred: NATE Certification
Required: EPA Universal Certification
Personal 
Valid social security number, driver's license and clean driving record
Must be well-groomed and make a neat appearance
Must be able to pass drug test(s) and background investigation as required by company
Preferred: Desire to gain additional skills and progress in company
Description of work and environment
Complete all required paperwork in a timely and accurate manner
Work with, instruct/train and assess the skills of any Service Technicians/Senior Service Specialists assigned to work with/for you
Attend required meetings, company or vendor training as required
Provide leadership on training/professional attitude and work ethics to all staff members and work closely with senior management
Qualify and help others to qualify for any necessary licenses or certifications which may be required by the company
Exhibit professional conduct at all times, whether at the job site or driving company vehicles
Participate in an on-call rotation schedule that includes nights, weekends and holidays
Understand company pricing and generate appropriate customer invoice at job site
Sales
General
Check out system, determine and recommend repairs needed
Review costs of repair and get customer payment and sign-off on paperwork
O Exceptions:
If parts are NOT on the truck, check with office on timing to receive parts and tentatively schedule
     follow-up appointment to complete repair
If system is not repairable or cost is very high, go over options with customer; price out/have office price out potential replacement system – work with customer to schedule installation estimate call – if customer does NOT want to consider a new system, determine if they want repair completed, if they DO – go ahead and complete repair and get payment' or if parts are not on truck, follow procedure noted in 1; if they DON'T want the repair, get service call charge and okay on paperwork Thoroughly explain operation and controls as well as benefits of service work –and if the existing system/s would cost more to repair than its expected performance and life – introduce new system/s, be sure that customer understands costs and benefits of new system versus repair
Be friendly and thorough when you present the suggested solutions and answer any customer questions in regard to them
Obtain customer agreement (signature)preferred payment method and COMPLETE information, including email address, get customer signature at completion of any service/installation job; electronically process credit card payment
Comfort Club
While explaining costs, be sure to go over Comfort Club benefits, costs and payment methods at the end of each call (unless customer is already a member)
Business Travel/Vehicle and Supplies
Travel to job sites in service area, and work with dispatch to ensure schedule is maintained and, if delayed, properly communicate delays to customer in advance of appointment time
Maintain good working order of company vehicle including refueling as necessary, reporting any mechanical issues, and filling out and submitting monthly vehicle inspection form. Insure that vehicle is clean (should be washed on a regular basis)
Maintain proper stock, parts, tools, and safety equipment in the vehicle
Maintain and submit monthly mileage log forms
Safety
Work safely and follow safety rules
Provide clear verbal instructions on company policies for safety
Take all reasonable and prudent actions to maintain a safe working environment and prevent injury or physical damage to company or customer property and/or vehicles
Installation Technician (Entry-Level)
General
Physical – Must be capable of:

Climbing stairs, ladders and scaffolds - working at heights above 30 feet
Standing or walking for long periods of time
Sitting, bending, reaching, stopping, kneeling, crouching, and crawling; working in confined spaces –crawlspaces/basements/attics
Lifting/shifting at least 75 pounds

Good mechanical skills
Positive attitude and capable of being team player
Must be willing and capable of learning on the job
Educational
Minimum of high school diploma or GED) PLUS
Preferred: At least 1 year of accredited study (and/or continuing enrollment) toward a 2 or 4 year degree from an accredited college majoring in HVAC
Task specific background /aptitude requirements

Recommendation from HVAC Department head and/or HVAC Instructor
Must have proven acceptable scores on mechanical comprehension tests
Strong communications skills – written and verbal
Well Organized

On-the-job learning

Must be willing to take instruction from senior Specialists
Must willing and capable of learning how to interact with customers and other staff
Need to be ambitious and take initiative to learn

Take on other duties as assigned – including workplace maintenance and cleaning
Personal 
Valid social security number, driver's license and clean driving record
Must be well-groomed and make a neat appearance
Must be able to pass drug test(s) and background investigation as required by company
Description of work and environment
Hands on work under the supervision of an Senior or Master Installation Specialist
Must have knowledge and mechanical capabilities to complete basic installation work based on instructions from Senior/Master Installation Specialist (and retain experience and learning)
Work can be residential or even commercial
Work is generally done during regular business hours, but flexibility in time for work is necessary
Work/Study opportunities exist for part-time or full-time work for student working on degree in HVAC
If not degreed, must demonstrate continued progress toward degree completion, verified by school and professors
Safety
Required

Work safely and follow safety rules
Follow all verbal instructions and company policies on safety
Take all reasonable and prudent actions to maintain a safe working environment and prevent injury or physical damage to company or customer property and/or vehicles
Senior Installation Specialist
General
Physical – Must be capable of:

Climbing stairs, ladders and scaffolds - working at heights above 30 feet
Standing or walking for long periods of time
Sitting, bending, reaching, stopping, kneeling, crouching, and crawling; working in confined spaces –crawlspaces/basements/attics
Lifting/shifting at least 75 pounds

Excellent mechanical/electrical/electronic skills
Positive attitude and capable of being team player
Educational/Experience
Preferred: completion a 2 or 4 year degree from an accredited college majoring in HVAC; Minimum of at least 1 year of accredited study (and continuing enrollment) toward degree
Required: 3 to 5 years of HVAC work
Strong communications skills – written and verbal
Preferred: NATE Certification Specializing in: Air Conditioning Installation, Air Distribution Installation, Air to Air Heat Pump Installation, Gas Heating (Air) Installation
Personal 
Valid social security number, driver's license and clean driving record
Must be well-groomed and make a neat appearance
Must be able to pass drug test(s) and background investigation as required by company
Preferred: Desire to gain additional skills and progress in company
Description of work and environment
Complete all required paperwork in a timely and accurate manner
Work with, instruct/train and assess the skills of any Installation Technicians assigned to work with you
Attend required meetings, company or vendor training as required
Qualify for any necessary licenses or certifications which may be required by the company
Exhibit professional conduct at all times, whether at the job site or driving company vehicles
Participate in an on-call rotation schedule that includes nights, weekends and holidays
Understand company pricing and generate appropriate customer invoice at job site
Business Travel/Vehicle and Supplies
Travel to job sites in service area, and work with dispatch to ensure schedule is maintained and, if delayed, properly communicate delays to customer in advance of appointment time
Maintain good working order of company vehicle including refueling as necessary, reporting any mechanical issues, and filling out and submitting monthly vehicle inspection form. Insure that vehicle is clean (should be washed on a regular basis)
Maintain proper stock, parts, tools, and safety equipment in the vehicle
Safety
Work safely and follow safety rules
Provide clear verbal instructions on company policies for safety
Take all reasonable and prudent actions to maintain a safe working environment and prevent injury or physical damage to company or customer property and/or vehicles
Master Installation Specialist
General
Physical – Must be capable of:

Climbing stairs, ladders and scaffolds - working at heights above 30 feet
Standing or walking for long periods of time
Sitting, bending, reaching, stopping, kneeling, crouching, and crawling; working in confined spaces –crawlspaces/basements/attics
Lifting/shifting at least 75 pounds

Excellent mechanical/electrical/electronic skills
Positive attitude and capable of being team player
Educational/Experience
Preferred: completion a 2 or 4 year degree from an accredited college majoring in HVAC; Minimum of at least 1 year of accredited study (and continuing enrollment) toward degree
Required: 7+ years of HVAC work
Required: EPA Universal Certification
Strong communications skills – written and verbal
Preferred: NATE Certification Specializing in: Air Conditioning Installation, Air Distribution Installation, Air to Air Heat Pump Installation, Gas Heating (Air) Installation
Personal 
Valid social security number, driver's license and clean driving record
Must be well-groomed and make a neat appearance
Must be able to pass drug test(s) and background investigation as required by company
Preferred: Desire to gain additional skills and progress in company
Description of work and environment
Complete all required paperwork in a timely and accurate manner
Work with, instruct/train and assess the skills of any Installation Technicians/Senior Installation Specialists assigned to work with/for you
Attend required meetings, company or vendor training as required
Provide leadership on training/professional attitude and work ethics to all staff members and work closely with senior management
Qualify and help others to qualify for any necessary licenses or certifications which may be required by the company
Exhibit professional conduct at all times, whether at the job site or driving company vehicles
Participate in an on-call rotation schedule that includes nights, weekends and holidays
Understand company pricing and generate appropriate customer invoice at job site
Sales
General
Thoroughly explain operation and controls as well as benefits of new systems, be sure that customer understands outcomes
Be friendly and thorough and present the suggested solutions and answer any customer questions in regard to them
Obtain customer agreement (signature)preferred payment method and COMPLETE information, including email address, get customer signature at completion of any service/installation job; electronically process credit card payment
Comfort Club
Be sure to go over Comfort Club benefits, costs and payment methods at the end of each call (unless customer is already a member)
Business Travel/Vehicle and Supplies
Travel to job sites in service area, and work with dispatch to ensure schedule is maintained and, if delayed, properly communicate delays to customer in advance of appointment time
Maintain good working order of company vehicle including refueling as necessary, reporting any mechanical issues, and filling out and submitting monthly vehicle inspection form. Insure that vehicle is clean (should be washed on a regular basis)
Maintain proper stock, parts, tools, and safety equipment in the vehicle
Safety
Work safely and follow safety rules
Provide clear verbal instructions on company policies for safety
Take all reasonable and prudent actions to maintain a safe working environment and prevent injury or physical damage to company or customer property and/or vehicles