From Bill Brown, President of Complete Comfort Heating & Air Conditioning and self described thermostat connoisseur:
I can remember when there were three types of thermostats available, mechanical mercury filled toxic rounds, digital non programmable, and digital programmable.  Up to about 2007, they were all pretty much horrible, terrible, cheap devices. Ugly, inaccurate, and impossible to program without a mechanical engineering degree.
Thankfully, there are so many much better thermostats to choose from today!  In fact, probably too many…..Let's go over some features and benefits and some of the different manufacturers.
For the past 7 years, I have switched the thermostat in my house 10 times.  Ask my wife, she will confirm this:)  As a heating and air conditioning contractor and homeowner, I want to know which thermostat is the best.  I prefer to actually try them for a good period of time.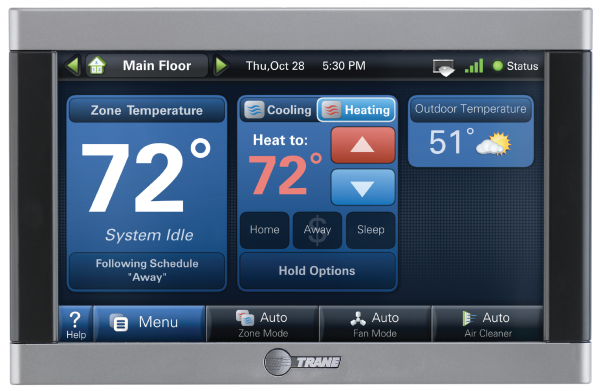 Here is what I have learned.  First, I am going to define "best".
Easy to use –  if its not easy to use or program, it might as well be a light switch on the wall
Visually appealing – I have grown accustomed to using an iPhone, a beautiful device with a super high resolution display.  I expect the same from all electronics.  Thanks to Apple, design is everything.
Reasonably priced – not necessarily cheap, but not $600 either.  I can get an iPad for that cost and it will do my taxes – well, almost.
Digital – I am not even going to cover non digital thermostats because it is 2013.
Programmable – This feature, when used, can save 15% on your utility bills.  You probably will not see that kind of energy savings from your new $4000 fridge with an Energy Star label on it.
Wi-fi – yes, these bad boys can connect to the internet.  Most have their own dedicated apps for iPhone or Andriod.
Actual temperature control and/or engineering marvel – every manufacturer does this a little different.  In the interest of brevity, we won't dig too deep into it.
Reliability and Warranty  – self explanatory.
Manufacturers –
Honeywell

 

– Probably the best known thermostat manufacturer.  Everyone had the mercury filled round version up til 1995.  Some can be purchased at big box stores, ones with more features and a longer warranty are only sold through distributors.
Ecobee

 

– a little known manufacturer from Canada.  Their thermostats are nothing short of incredible.  Can be purchased online or at distributors.
Nest

 

– The guys that made the original iPod started a thermostat company and this is it.  Very visually appealing and claims to program itself.  Big marketing budget and can be bought at big box stores
Venstar

 

– One of the first digital photo frame engineers brought his knowledge over to the thermostat market.
White Rogers

 

– One of the oldest thermostat manufacturers, owned by Emerson Electric
Ritetemp

 

– Typically found at the big box stores
Hunter

 

– Known for making ceiling fans, found at big box stores
Totaline

 

– Owned by Carrier and sold only through distributors
HVAC Manufacturers – Carrier, Lennox, Trane, Rheem – Proprietary models that are typically sold with new heating and air conditioning systems.  These have made huge strides in the past few years.  Can only be purchased through distributors.
I am not going to go through all models, but will focus only on ones that I have experience with (most) and that I would actually install.  Some of these are a sure service call…
All of the Honeywell models that I install have 5 year warranties, which is more than all others.  I have never, ever had to replace a Honeywell thermostat before 3 years.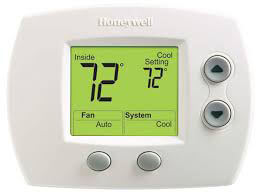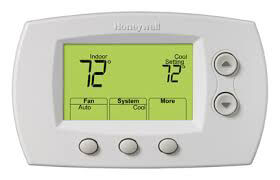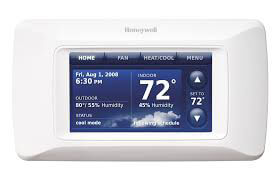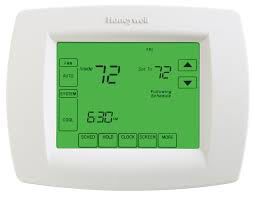 Easy of use – With Honeywell, the expensive models have larger displays and are easier to use. The Focus Pro 5000 and higher are the easiest to use. The Prestige HD 2.0 is the easiest, with menu driven question based programming.
Visually appealing – Again, the Focus Pro 5000 thermostat has a crisp clean look and a nice sized display. The back lighting is sufficient and it can be seen from almost any angle. The Vision Pro 8000 has a touchscreen and was once the best looking thermostat you could buy. Not anymore. The Prestige HD 2.0 has a beautiful screen, but the casing is large and cheap looking. It could benefit from a slimmer design.
Reasonably priced – The Focus Pro 5000 starts at about $50, which is a great price for a digital non-programmable thermostat. The top end Prestige runs about $450 – which is absolutely ridiculous compared to other top end models with similar features.
Programmable – Most models are programmable. Everything about the 6000 series is programmable.
Wi-fi – Up to a few months ago, only the Prestige had Wi-fi, and it wasn't built in! It required a separate router which was expensive. Honeywell just recently released a bunch of new built-in Wi-Fi models, which I will be sure to try and write about!
Actual temperature control and/or engineering marvel –
Reliability and Warranty –